Are The Buffer Pro Plans Worth The Price to Upgrade?
Are The Buffer Pro Plans Worth The Price to Upgrade?
Published by James Parsons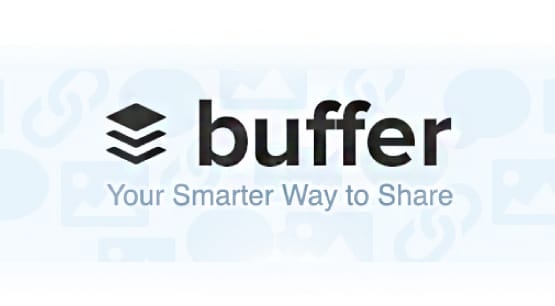 Along with tools like IFTTT and Zapier, Buffer is one of the core components for a ton of excellent do-it-yourself automation apps. Using Buffer as an intermediary between your automation engine and your social media platforms has long been a way to get a ton of value out of social media without actually investing the hours or days it takes to run one manually.
With so much value coming from Buffer, it's no wonder people ask whether or not the pro-tier plans for the service are worthwhile. My answer in general is "yes", but as with anything in marketing, there's a lot to discuss.
Whatever Happened To the Awesome Plan?
One of the most often mentioned features of Buffer is that they had a very high quality plan titled the Awesome Plan. For $10 per month, you could get all of the benefits of a paid plan without having to pay any of the enterprise-level tiers.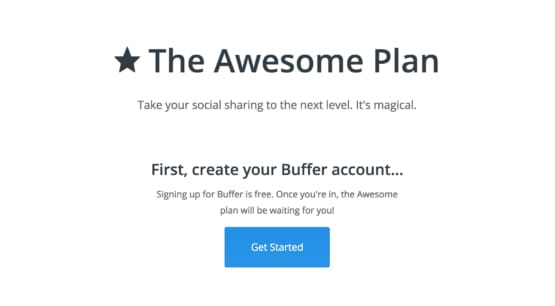 In late March of 2018, Buffer retired the Awesome plan and replaced it with the Pro plan. The new Pro plan is about equivalent in value, but it's a little more expensive. What are the changes?
The Awesome Plan was renamed to be the Pro Plan.
Buffer increased the discount you receive if you pay annually instead of monthly, from 15% off to 20% off.
The monthly price of the plan increased, from $10 per month to $15 per month. This brings the yearly cost – if paid annually with the new discount – from $102 per year to $144 per year.
Buffer decreased the number of social media accounts you could connect with the plan, from 10 to 8.
Overall, since the Awesome plan was announced in 2011, this change has been a long time in coming. It's no surprise that something as great as Buffer wants to make a little more money doing what they do. The real surprise is the decrease in the number of social accounts you can connect, though they have their reasoning for that as well.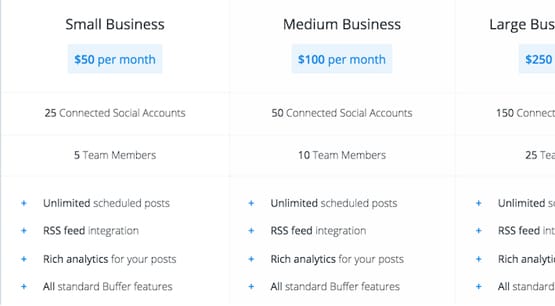 Pricing for the new Pro plan changed because Buffer has been adding more and more features over the years without charging you for them. They could easily have opted for a modular service, but they just gave you those features, from the content inbox to URL shortening to new social media platforms. This adjustment simply makes the new Pro plan more reflective of the value you're getting, and besides; $5 a month is hardly enough to break the bank.
As for decreasing the number of available social accounts, Buffer has plans to roll out a scaling plan where you can pay according to the number of social accounts you want to connect. They've essentially realized that most of their Awesome plan customers weren't using all ten accounts, and those that were would be willing to pay a little more for them. Again, it all makes sense.
Existing Awesome plan subscribers are still on the Awesome plan; they do not get charged more or have their cap on social accounts decreased. However, if you choose to cancel and resubscribe later, you will have to subscribe to the new Pro plan instead, and if you choose to upgrade and downgrade later, you will only be able to downgrade to the Pro plan. Keep this in mind if you want to change. Buffer plans to keep this system at least through June 1, though it might take longer. When they do change, they will probably offer a legacy discount to Awesome plan subscribers.
That's enough of the legacy option, though. What plans does Buffer offer now, and are they worthwhile?
Free Plan
Since this article is primarily talking about the paid plans, I'm not going to make much of a judgment on the free plan. Of course, the free plan is very much worth using if it suits your needs. I'm mostly just including it so you know what you get for free, and can compare it to what you get for a paid service.
The free plan is, of course, free. It is limited to a total of 3 social accounts, which is a pretty low limit but also plenty for many small businesses. The more important limit is that you can only schedule up to 10 posts per social account, so a total of 30 scheduled posts at a time. Crucially, this is only a limit on your schedule backlog; there's no cap on the number of posts you can make through Buffer on a weekly or monthly basis.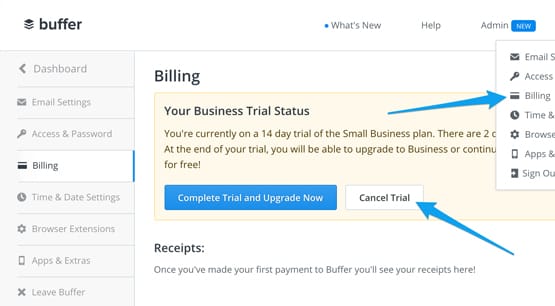 The free plan allows you to connect to Twitter, Facebook, LinkedIn, Google Plus, and Instagram. This is a good range of social networks, and the vast majority of businesses will be content with them.
The free plan contains many of the extras, though not all of them. You get the browser extension, allowing you to schedule posts on the fly as you browse the web. You get the mobile apps for both iOS and Android. You gain access to the Pablo Image Creator. Pablo is sort of like Canva, though it's much more limited. In eschange for those limitations, it's free to use. You can check it out here and see if it's the kind of app you'd make use of, though if you have a moderate level of skill and access to a program like Photoshop, you'll find it woefully limited.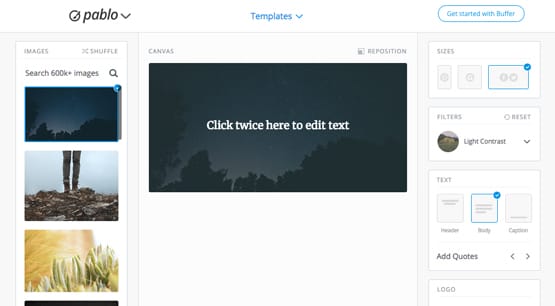 You also get the Video and Gif Uploader, which allows you to upload one media file to your Buffer library and then schedule it on all of your social profiles. Other services often require you to upload the same file multiple times, which takes up bandwidth and time, so it's a handy tool.
Finally, you get the URL shortener and the attached analytics. It eliminates the need to use something like Bitly to track link performance, and it's entirely optional. On the other hand, it's Buffer branded, so that might not fit the appearance you want to put forward.
So that's your baseline, against which you can compare the other plans.
Pro Plan
The Pro plan is the new version of the Awesome plan and will cost you $15 per month. It gets you up to 8 social media accounts across the platforms listed above. It also adds Pinterest to the list of accessible platforms. This can be extremely important for certain businesses, but isn't necessary for every business. If you need Pinterest, that alone is worth paying for Buffer, as far as I'm concerned.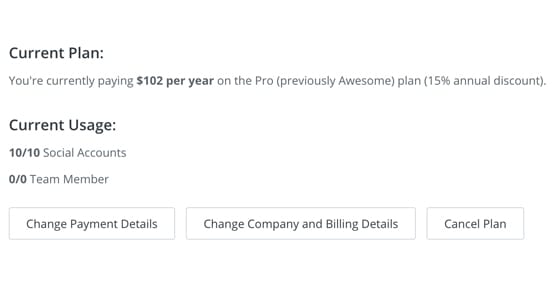 The Pro plan also bumps you up to 100 scheduled posts per social account, which means 800 total scheduled posts. That's quite a few, and it's pretty hard to reach that number as it is, so that's fine.
There are only three other unique extras that Buffer gives to the people paying for the Pro plan. First up is the RSS feed; allowing you to schedule from an RSS feed or monitor feeds for content through your content inbox can be a useful tool. Secondly is the calendar; rather than just feeding posts into Buffer and letting it schedule as it desires, you can put specific posts in specific calendar slots. This can be very useful for certain types of scheduling, but not all businesses need that type of scheduling. Third, as you might expect if you've ever looked into any kind of marketing tool before, is social analytics. They will compile your analytics data from your social profiles in one place. This alone can be worth the price of admission as well.
Overall, I give the Pro Plan a very high rating. It's definitely worthwhile, and it's mandatory for some businesses that want specific features, like Pinterest access. It's also worth noting that the Pro plan has a 7-day free trial.
Enterprise Plans
Buffer has three different tiers of enterprise plan, all of which are divided only by the caps on various actions. All three enterprise or business plans have a 14-day free trial.
While the business plans do not give any other social platforms, they add advanced level social analytics to the pile. The advanced social analytics can be very good for a business-level plan, specifically if you're an agency managing multiple businesses on the same platform.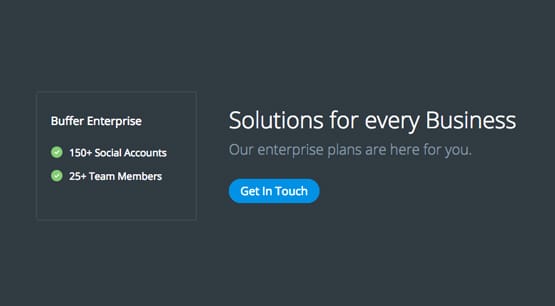 That said, let's go over the individual costs and caps for each tier of plan.
The Small business plan is $99 per month, which is a pretty big jump from the Pro plan. For that price, it gives you 25 total social media accounts and 2,000 scheduled posts per social media account. That's an insane number of scheduled posts, and can basically fill out the full content schedule for several small businesses at once. I don't know of any "small" businesses that would actually hit those caps, but hey; I don't know every business. The Small business plan also includes access for up to 5 team members.
The Medium business plan is $199 per month. It keeps the 2,000 posts per social account limitation, but gives you up to 50 total social accounts, and an additional five team members, for a total team size of 10. That's pretty solid for a large business, and would work for all but the largest brands or agencies. Someone like WalMart trying to manage an individual social media profile for every store location would need more, but that's about it.
The Large business plan is $399 per month and triples the number of social accounts, up to 150. Team members go up to 25. The cap on posts per social profile remains at 2,000, which is, again, plenty. This is the ideal plan for an agency running a bunch of clients, each with a bunch of different social networks they need to use.
My Verdict
The way I see it, the Small business plan is about the cap of what you might reasonably need. With a cap of 2,000 posts per social account, you have more than enough space to post as much as you want. That's nearly 6 posts per day, every day of the year, which is overkill for almost every social network. Instagram and Twitter might be able to sustain that level of activity, but you're still pretty unlikely to reach that cap and maintain it.
Remember, too, that this is the cap on scheduled posts. You have to have 2,000 posts ready to go for Twitter or what have you, at all times. I know plenty of small businesses that haven't even managed to make that many posts in their entire history on social media. There's no reason to set up a Twitter, Instagram, or other social media account to post that often, that far in advance. You can't predict what will be relevant six months from now, after all.
The medium and large business plans are, to me, overkill. They're aimed at larger businesses and agencies. If you're the owner of a large brand or an agency, and you're reading my blog, by all means contact me and I'll work with you directly.
The fact is, though, that once your business reaches that level, you're probably using other enterprise-level tools that have different features to help you schedule and manage that many posts at a time. Buffer is great for what it does, but you also need the tools to find or create content, manage content libraries, and keep a team on track. Buffer can assist, but many of the other platforms that help with this have their own scheduling system, so you don't need Buffer to do it for you.
So, you know, if you're a large enough business to make use of the medium or large business plans for Buffer, you'll know if you can make use of the features they give you. And if you don't, you can try them out for two weeks for free. Make that judgment for yourself.
For everyone else, Buffer is amazing and with a few simple integrations can become the cornerstone of a well-managed social media presence, and the price point of $15 per month is well worth it.
---
Related Posts
---
Comments