List of White Label and Reseller-Friendly Facebook Services
Published by James Parsons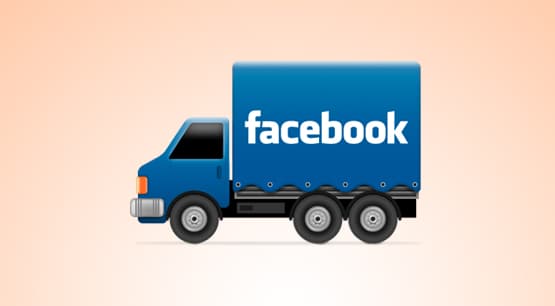 Have you ever wondered how there can be dozens of businesses selling essentially the same service, without them running each other out of business? In some cases, it's because of geographic differences, or different audience targeting strategies, or marketing towards different demographics. In the case of many web services, and especially Facebook services, there's another potential cause at play.
That cause is resellers. Many of these services, when you dig right down to it, are the same engine, the same software, branded by different people and sold by different sellers.
No, this isn't illegal, it's not copyright theft or stolen content. It's actually a licensed use from the original service provider. These service providers can reach a certain percentage of their potential customers, but they know they can't reach everyone. Rather than try to fight off any potential competitors, they adopt them.
In a sort of two-heads-are-better-than-one approach, these companies offer up the ability to license their software or their web app and resell it. The reseller doesn't do much more than marketing and customer service, or act as a liaison between the customer and the service provider. The service provider gets more customers and more profit without having to diversify their marketing or expand into new audiences. The reseller skims a bit of the profit off the top without having to do any of the work of developing the app themselves. It's a win/win for everyone except the potential customers who feel like there's more choice than there actually ever was.
What I've done below is listed off some companies that have reseller programs available. If you're interested in becoming one of these resellers, I encourage you to check them out.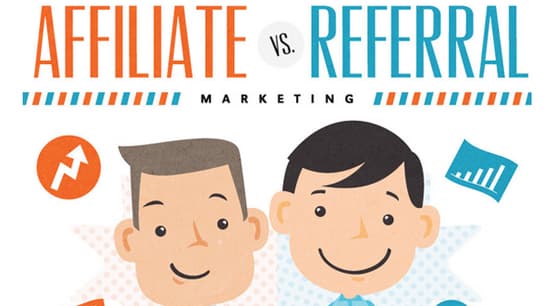 So what's the difference between an affiliate program and a reseller program? Frankly, there isn't much. An affiliate program simply makes no attempt to hide the fact that they're referring the customer over to the service provider. It's sort of like the difference between an affiliate program and a dropshipping program. As such, some of the entries below may be classified as affiliate programs instead of pure reseller programs, but that's fine. They're all ways to take a service you didn't develop and make money selling it.
The key term you may be looking for when looking for other services you could resell is "white label". What white label means is that you're able to take the service and resell it without needing to attach the original brand name to it. It's sort of like how you can get Chinese knock-offs of products with the serial numbers left off, except it's legit and not trademark violation. If a product is white label, you're under no obligation to say who is providing it, and can brand it as your own. The label is blank white, allowing you to add your own brand name, essentially.
Anyways, enough with the introduction, let's get to what you really came here for: the list!
AdEspresso was formerly one of the top-tier ad management programs for Facebook available. It still is, but it's no longer just AdEspresso; it's owned and managed by Hootsuite now. It's an excellent app that can manage Facebook ads with a whole bunch of cool features, including automatic split testing and optimization of ads.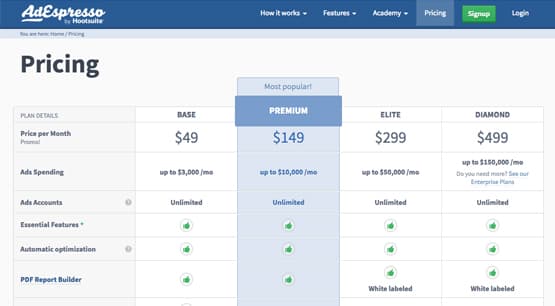 There are two ways you can make money selling AdEspresso. The first is with their affiliate program. The affiliate program works the same way any other affiliate program works. You build up a site or use your blog to promote AdEspresso, and tag the link to their site with your tracking code. When a user signs up, you get a commission, up to 50% of the price the clients pay. It's a very simple affiliate program with some very good terms.
The other way you can resell AdEspresso is by buying it yourself and using to offer ad management consulting. This isn't a simple and easy reseller program, unfortunately. You can't just white label the entire service and call it a day. You need to actually know what you're doing and sell your own services as an ad manager, using their tool.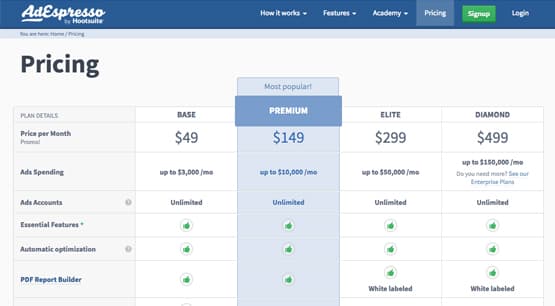 Specifically, you need at least the Elite level of service, which is the third tier up on their pricing plan. This will cost you $300 per month. It allows you to manage up to $50K per month of ad spend, though you have an unlimited number of ad accounts and you can create up to 10 sub-accounts for team members to do their own client management.
The reason you need the higher tier plan is because that's the level where the progress reports you generate are white labeled. At the $300 or higher tiers, you are able to generate reports and add your own branding to them, so your clients don't know you're just using AdEspresso and can't ditch you to go with them directly.
This isn't a reseller plan by the strictest definitions, because you still need to be an ad manager running your own business with your own clients. However, this is a great way to establish a brand as a social marketing service, build up a client list, and put together a total service package with other tools as well. If you can rack up half a dozen different tools that you can pay for with the income from your clients, you can become a force in the industry.
99 Dollar Social is a company that takes the need to post on your social media profiles every day and, well, does it for you. They're all about content curation and sharing, and they focus on building you an audience of lasting customers through engaging content. It's social media content management as a service. Since small business owners usually have a thousand and one different things on their plate at any given time, it can be a huge time saver to get something as simple but tedious as content production taken care of.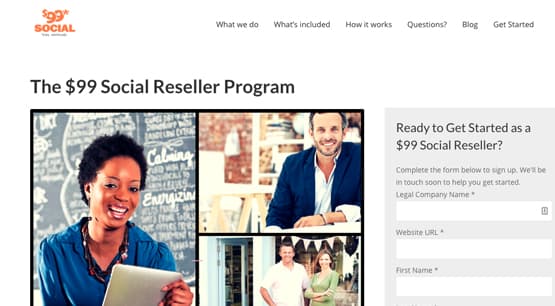 Now, if you were going to be using $99 Social as a business, I would recommend that you still maintain at least a token presence on your own profiles, posting your original content in addition to the content they post for you. They post content once a day, which might be less than you want for some sites, and it's all content specifically curated for your brand. That's just the thing, though; it's curated content. The posts are original, but the content is not yours, not on your site, and not aimed at promoting your business.
However, since we're talking about building up a brand reselling services, you don't have to care about all of that. That's stuff for your clients to care about, and whether or not they do doesn't really matter to you. You can, of course, feel free to build a blog based on giving them tips on how to grow their social media presence effectively, but as long as they're paying you, it's no skin off your back if they don't follow your tips.
The $99 Social reseller program is available at the link above or in a footer link on their website. It's completely white label; all you're doing is building up advertising, referring customers over, and letting them handle all the work. Again, this is a service you can roll into a handful of other services to make one larger marketing brand if you so desire.
In order to be a reseller for $99 Social, you do need to sign up for the service yourself, which means your initial costs are $99 per month, just as if you were one of their base customers. Once you sign up and apply to be part of their reseller program, they will ask you to fill out a questionnaire. This will help them set up your client account and set you up for reselling.
Quuu is a social media queue manager. Much like the second item on this list, its primary use is to curate content for your social media feeds. As a customer, you get content suggestions, access to a content library, unlimited scheduled posts, and different plans with access to different numbers of social media profiles.
Quuu does not have a reseller program, but it's friendly towards agencies. You get six content suggestions per day per profile linked to the account, and you get as many profiles as you're willing to pay for.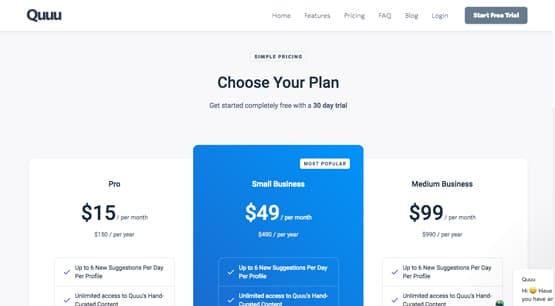 What you can do as a reseller is simply add this as one of your services. Inform your clients that you can curate a small handful of posts each day and link their account to Quuu, where you can then manage their social media presence directly. With the $100 per month plan, you're able to add up to 50 social media profiles – that is, 50 Facebook pages, one for each of 50 different clients – and post up to 6 suggested pieces of content each day.
Quuu doesn't really have a white label program, but that's the trick; since all the work they do is on the back end, and you would be the one managing the back end, your clients never see a hint of Quuu in the foreground. All they see is curated content delivered to their feed. And, with up to 50 profiles, you can have up to 50 clients paying you however much you want to charge for the service, easily paying for your instance.
SEO Reseller is an example of the kind of service platform you can build up out of resold services, while also being a provider of many of those services themselves. You can be an agency or a reseller, with SEOReseller as a supplier, with little or no issue. They have a ton of options available as well, ranging from SEO software, social media management, web design, and paid advertising all the way to various sub-elements of SEO.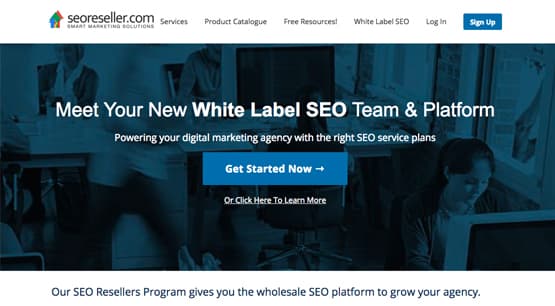 For the purposes of this article, what you're likely looking for is the White Label Social Media Services. SEOReseller offers comprehensive social media campaigns in their reseller program. You can run ad campaigns, curate content and monitor user conversations through social listening. Their resold analytics and targeting techniques help you optimize your customer performance quite easily. And, of course, you can generate white label reports to show your clients and convince them of what a great job you're doing.
Closed Services
Sometimes a service closes their reseller options. If one of my entries above does so, feel free to let me know so I can remove it from the list. Likewise, if you know of a service that has a good reseller program, drop it in the comments so I can give it a look.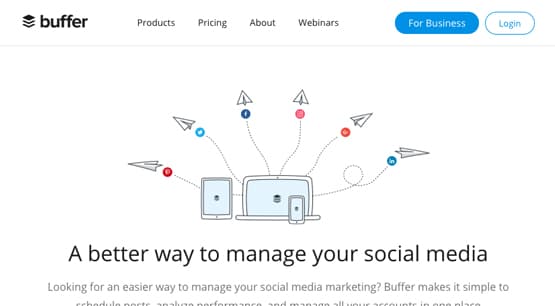 One service that I love, and that had a reseller program until quite recently, is Buffer. Buffer had a reseller program where by referring new clients, you could get a higher number of slots in your own queue. Unfortunately, they closed down the program as of February 2018. It's a shame that it's gone, but it just goes to show that this can happen to any service at any time. If you're a reseller, always strive to have multiple services available, preferably redundant services, so your business isn't in jeopardy when a single reseller program closes down.
A Custom Deal
One final option is a custom option. Some companies aren't set up to handle resellers, but others might be more than willing to work with you, since it means more business for them. If there's a company you would like to resell and you're not sure if they'll allow it or if they have a program available, just email them! You can contact the owner of the service and get a hookup, potentially even a unique application that your competitors aren't able to offer. And hey, as long as you aren't promising anything to your clients before you get the hookup, the worst that can happen is they say no.
---
Related Posts
---
Comments